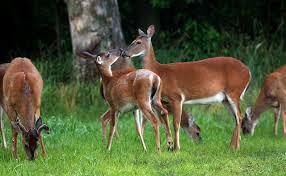 CliftonDeer.org, a non-profit organization, and the Cincinnati Parks are engaged in a three to five year program (Program) to study surgical sterilization of female white tailed deer as an alternative to lethal culling.
The Program is privately funded, and is being conducted by environmental biologist Dr. Anthony DeNicola of White Buffalo, Inc. under a research permit from the Ohio Department of Natural Resources, Division of Wildlife.  Surgical oversight and training is provided by Dr. Randall Junge, DVM, DACZM, currently V.P. of Animal Health at the Columbus Zoo and the Wilds.  The Humane Society of the United States is providing funding and staff support.
The Program is testing a sterilization method known as a "rapid ovariectomy," a procedure similar to, but less invasive than spaying domestic dogs and cats.  The goal is to reduce fawning so deer populations can shrink through normal attrition. Over several nights in late Fall or early Winter, capture teams anesthetize does by darting and transport them to a field surgical facility where a veterinary team performs the surgery and monitors the does until they can be safely returned to field.
Detailed information about the Program generally is available on the Program's website at www.cliftondeer.org, and about the surgical procedure specifically at the "Frequently Asked Questions" page on that site.